International Surveys
The goal of this project is to reconstruct the original appearances of historical buildings, both made of wood and stone, by analyzing available survey data and data on construction techniques. Using the results from this project, restoration plans for some twenty treasure-designated buildings will be drawn up over the medium to long term.

As part of this project, comparative research is being conducted on ancient architectures of Korea, China and Japan. Surveys are performed on ancient Chinese and Japanese buildings, and more particularly those located in Shanxi Province to objectively assess Korean architectural techniques developed and utilized during antiquity, which should also assist the institute's effort for developing more effective restoration and maintenance procedures.
Comparative Studies on Ancient East Asian Architecture
This project constitutes a comparative analysis of ancient Korean, Chinese, and Japanese buildings. The objective is to define the architectural styles of ancient Korean buildings by studying ancient architectural techniques, and consequently find methods for their restoration and preservation. Furthermore, a basis for the study of ancient buildings in Northeast Asia will be pursued through continuous academic exchange.

The study findings will be published and used as academic data. A report was published in 2009. We also have plans to begin surveys of ancient Japanese architecture.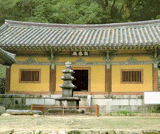 Geungnakjeon Hall of Bongjeongsa Temple
Namseonsa Temple in Daejeon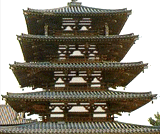 Ojungtap Pagoda of Beopnyungsa Temple
Research Accomplishments
Surveys performed in 2002
1. Datong, Shanxi

Shanhuasi Temple: Hall of Sakyamuni, Bohyeongak Hall, Sanmun Gate, Samseongjeon Hall
Shanghuayans Temple: Hall of Sakyamuni
Xiahuayansi Temple: Bojiajiaocangdian Hall

2. Yingxian, Shanxi

Fogongsi Temple: Shijiata Pagoda
Jingtusi Temple: Hall of Sakyamuni

3. Taiyuan, Shanxi

Jinsi Temple: Jincishengmudian Hall, Xiandian Hall
Surveys performed in 2003
1. Changzi, Shanxi

Faxingsi Temple: Hall of Sakyamuni
Chongjingsi Temple: Hall for Three Supreme Masters, Hall of Thousand Buddhas

2. Pingshun, Shanxi

Longmensi Temple: Xipeidian Hall
Tiantaian Hermitage: Hall of Sakyamuni
Longmensi Temple: Hall of Sakyamuni
Dayunsi Temple: Hall of Great Buddha, Hall of Three Buddhas

3. Changshi, Shanxi - Gufotang Hall

Fuchenghuangmiao Shrine: Chenghuangdian Hall, Peidian Hall
Chongjiaosi Temple: Hall of Great Buddha, Hall of Heavenly King
Zhengjuesi Temple: Front Hall, Rear Hall

4. Lingchuan, Shanxi

Nanjixiangsi Temple: Middle Hall, Rear Hall

5. Jincheng, Shanxi

Chongshousi Temple: Hall of Sakyamuni
Qingliansi Temple: Hall of Sakyamuni

6. Gaoping, Shanxi

Chongmingsi Temple: Middle Hall
Youxiansi Temple: Front Hall, Middle Hall
KaiHuasi Temple: Hall of Sakyamuni
Surveys performed in 2004
1. Shuozhou, Shanxi

Chongfusi Temple: Hall of Avalokitesvara, Hall of Amitabha Buddha

2. Hongtong, Shanxi

Guangshen Xiasi Temple: Front Hall, Rear Hall of Sakyamuni
Guangshen Shangsi Temple: Front Hall
Shuishen Miao: Hall of Sakyamuni

3. Jishan, Shanxi

Qunglongsi Temple: Rear Hall of Sakyamuni, Middle Hall

4. Ruicheng, Shanxi

Yongluogong Palace: Sanqingdian Hall, Mojimen

5. Xian

Daciensi Temple: Dayanda Pagoda
Jianfusi Temple: Xiaoyanta Pagoda
Qingzhensi Temple: Hall of Sakyamuni
Surveys performed in 2007
1. Nanchansi Temple: Hall of Sakyamuni in foguangsi Temple
2. Bulgwangsa : Dongdadian Hall, Munsudian Hall.
3. Yanshansi Temple
Surveys performed in 2010
1. Hebei

Wenmiao: Dachengdian Hall
Longxingsi Temple: Manidian Hall, Zhuailuncangdian Hall, Cishigao Hall
Kaishansi Temple: Hall of Sakyamuni
Quyang Beiyuemiao: Deningdian Hall
Guangjisi Temple: Sandashidian Hall
Surveys performed in 2011
1. Yixian, Liaoning - Hall of Sakyamuni in Bongguksa Temple
2. Dengfeng, Henan

Chuzuan Hall in Shaolin of Temple3. Jinhua, Zhejiang
Hall of Sakyamuni in Tianningsi Temple4. Wuyi, Zhejiang
Hall of Yanfusi Temple

5. Ningbo, Zhejiang - Hall of Sakyamuni in Baoguosi Temple
6. Shanghai- Hall of Chenyingsi Temple
7. Suzhou, Jiangsu- Ershanmen, Lingyansi Temple
8. Zhenze, Jiangsu- Hall of Yangmanmyo Tomb
Surveys performed in 2012
1. Kan xiacun tulouqun – he gui lou, quwei lou, huaiyuan lou
2. Gao beicun tulou qun – cheng qi lou, shi ze lou, qiao fu lou
3. Hong keng cun tulou qun – zhen cheng lou, kui ju lou, fu yu lou, ru sheng lou
4. Ta xiacun tulou qun
5. Yuchang lou
6. Tianluo keng cun tulou qun – he chang lou, rui yun lou, bu yun lou, wenchang lou
7. Chu xicun tulou qun – ji qing lou
8. Zhao jia bao – wanbi lou, fu di
9. Qing yan lou
10. Dadi cun tulou qun – er yi lou, nanyang lou, dongyang lou, Dou bong lou
11. Quanzhou Luoyang qiao
12. Quanzhou kaiyuan si
13. Nan putuo si
Surveys performed in 2013
1. Tongbiguanxiang, Yingjingxian, Yunnan-Sanhecun, Hepingcun
2. Namgyeongnichon, Ruilishi, Yunnan-Bangyangjo, Hamsachon
3. Wengdingcun, Cangyuan, Wazuzizhixian-Wengdingcun
4. Nayunguzhen, Menglian Daizu Lahuzu Wazu Zizhixian, Yunnan-Nayuncun
5. Jinghingshi, Yunnan-Manhabangchon