Survey of Korean Cultural Assets Held Overseas
We conduct onsite surveys of Korean cultural heritage items held in other countries in order to form an accurate picture of their condition and publish a report based on the relevant academic materials. We provide financial support for the maintenance of items that are in poor condition and arrange onsite exhibitions thereof in an effort to publicize their existence.
Survey of Korean Cultural Assets Held Overseas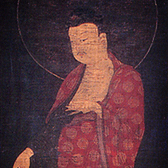 Painting of Amitabha, Guimet Oriental Museum, France
This project is divided into onsite surveys, publication of reports, operation of an Internet-based material/information database, provision of support for preservation treatment, etc.
We maintain a list of the cultural heritage items kept by each relevant institution and provide materials on them in an effort to ensure the proper use and management thereof. We publish reports (in both Korean and English) on cultural heritage items surveyed by us in order to provide academic materials to interested parties. We have compiled a database of the list of about 150,000 Korean cultural heritage items both in and outside the country and the results of onsite surveys to help interested parties gain easier access to the relevant information. In addition, we have provided financial support for the preservation treatment of relics kept by fifteen museums since 2005, in an effort to enhance their usefulness.
A photo of Survey on Korean Cultural Properties Abroad

A photo of Survey on Museum in London, UK

A photo of Survey on the Victoria and Albert

A photo of Survey on Museum, GRASSI Museum für Völkerkunde zu Leipzig
Research Results
| | |
| --- | --- |
| 1984 | Catalogue of Korean Cultural Properties Located Overseas 1984 (Haeoe Sojae Hanguk Munhwajae Mongnok 1984) |
| 1986 | Catalogue of Korean Cultural Properties Located Overseas 1986 (Haeoe Sojae Hanguk Munhwajae Mongok 1986) |
| 1991 | Catalog of Ancient Korean Books and Records Located in Japan (Ilbon Sojae Hanguk Jeonjeok Mongnok), 1991. |
| 1993 | Catalogue of Korean Cultural Properties Located Overseas 1993 (Haeoe Sojae Hanguk Munhwajae Mongnok 1993) |
| 1994 | Source Book of Survey Results by Ogawa Geikichi (Socheon Gyeonggil Josa Jaryojip), 1994. |
| 1995 | Catalogue of Korean Cultural Properties Located in Japan (Ilbon Sojae Munhwajae Dorok), 1995. |
| 1996 | Catalogue of Korean Buddhist Paintings in Japan: Kyoto and Nara (Ilbon Sojae Hanguk Bulhwa Dorok: Gyeongdo, Nara), 1996. |
| 1999 | Korean Cultural Properties in the Collection of the Musee National des Arts Asiatiques Guimet (Prangseu Gungnip Gime Dongyang Bangmulgwan Sojang Hanguk Munhwajae), 1999. |
| 2002 | Korean Cultural Properties in the Collection of the State Museum of Oriental Art in Moscow (Moseukeuba Gungnip Dongyang Bangmulgwan Sojang Hanguk Munhwajae), 2002. |
| 2004 | Korean Cultural Properties in the Collection of the Peter the Great Museum of Anthropology and Ethnography in Russia (Reosia Pyoteureu Daeje Illyuhak Minjok Bangmulgwan Sojang Hanguk Munhwajae), 2004. |
| 2004 | Korean Cultural Properties in the Collection of the Museum of Fine Arts, Boston (Miguk Boseuteon Misulgwan Sojang Hanguk Munhwajae), 2004. |
| 2005 | Korean Cultural Properties in the Okura Collection of the Tokyo National Museum (Ilbon Dokyo Gungnip Bangmulgwan Sojang Ogura Keoleksyeon Hanguk Munhwajae), 2005. |
| 2006 | Korean Cultural Properties in the Collection of the Neiraku Museum in Japan (Ilbon Neiraku Misulgwan Sojang Hanguk Munhwajae), 2006. |
| 2006 | Korean Cultural Properties in the Collection of the Musee Nationale de Ceramique de Sevres (Peurangseu Sebeureu Gungnip Doja Bangmulgwan Sojang Hanguk Munhwajae), 2006. |
| 2006 | Korean Cultural Properties in the Collection of the Brooklyn Museum, US (Miguk Beurukeullin Misulgwan Sojang Hanguk Munhwajae), 2006. |
| 2007 | Cologne (Dogil Koelleun Dong-Asia Bangmulgwan Sojang Hanguk Munhwajae), 2007. |
| 2008 | Korean Cultural Properties in the Collection of the Waseda University Tsubouchi Memorial Theatre Museum (Ilbon Waseda Daehak Sseubouchi Baksa Ginyeom Yeongeuk Bangmulgwan Sojang Hanguk Munhwajae), 2008. |
| 2008 | Korean Cultural Properties in the Collection of the Philadelphia Museum of Art,US (Miguk Pilladelpia Misulgwan Sojang Hanguk Munhwajae), 2008. |
| 2009 | Korean Cultural Properties in the Collection of the Herbert F. Johnson Museum of Art, Cornell University, US (Miguk Konel Daehakgyo Heobeoteu Misulgwan Sojang Hanguk Munhwajae), 2009. |
| 2010 | Korean Cultural Properties in the Collection of the Bunka Gakuen Costume Museum, Japan (Ilbon Munhwa Hagwon Boksik Bangmulgwan Sojang Hanguk Munhwajae), 2010. |
| 2010 | Korean Cultural Properties in the Collection of the Honolulu Academy of Arts, US (Miguk Honollullu Akademi Misulgwan Sojang Hanguk Munhwajae), 2010. |
| 2011 | Korean Cultural Assets in the Museum of Yale University |
| 2012 | Korean Cultural Heritage Items kept by the Los Angeles County Museum of Art |
| 2012 | Korean Cultural Heritage Items kept by the New York Metropolitan Museum of Art |
| 2012 | Korean Cultural Heritage Items kept by the Kyushu Ceramic Museum in Saga Prefecture, Japan |
| 2013 | Korean Art Collection GRASSI Museum für Völkerkunde zu Leipzig |
| 2013 | Korean Art Collection Victoria and Albert Museum |
| 2014 | Korean Art Collection GRASSI Museum für Völkerkunde zu Leipzig |
| 2014 | Korean Art Collection Victoria and Albert Museum |